Support Options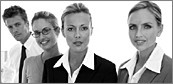 Fixed Price All Inclusive
This option offers the most peace of mind. It incorporates a Service Level Agreement and Pre-Paid consultancy and offers discounts of up to 25% on standard consultancy rates.


Fix on Fail

Also includes an SLA, subject to a reduced annual fee, but all work is charged on an undiscounted 'Time & Materials' basis. Offers peace of mind regarding response times but your support costs are fixed.
---
For more information:

0870 762 0683

sales@in-perspective.co.uk

Contact Form
We look forward to hearing from you

Support & Maintenance Solutions
As well as developing software solutions InPerspective Consulting are also able to offer customers support and maintenance packages for these solutions and for a range of other applications.

Each of these packages are tailored specifically for every customer and this allows us the fexibility to provide individual focus on your specific needs and requirements. These range from a simple 'fix on fail' only on a time & materials basis to an all inclusive contract for a fixed annual fee.






Web Based Support Centre


This is available to all clients who purchase asupport & maintenance agreement from us. This provides incident logging and tracking as well as contract status statisitcs.




Service Level Agreements


These are an intrinsic part of our support and maintenance agreements. These define response and resolution timescales and priorities.



Benefits of Support


Online Support Centre



Telephone Helpline



Minimise Downtime



Prioirity Response



Expertise On Hand



Fixed Support Cost



Incident Tracking



SLA Monitoring



Peace of Mind



Discounted Rates